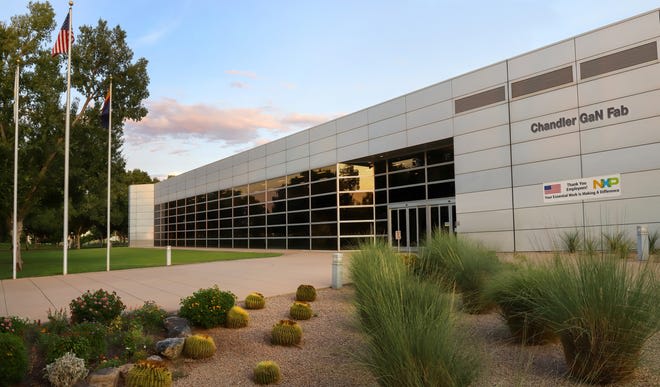 As 5G communication ramps up with the new Apple iPhone 12 and other next-generation cellular devices, a Chandler factory stands ready.
NXP Semiconductors this week received a green light to start shipping its first components from an advanced Gallium nitride factory in Chandler. Gallium nitride is a material used in an advanced type of chip that allows NXP's power amplifiers, transistors and other components, installed atop those increasingly ubiquitous cellphone towers, to handle more cellphone transmissions more quickly.
NXP recently completed a $100 million facelift at the roughly 30-year-old facility that will allow it to furnish replacement components for use in towers that can service 5G or fifth-generation cellphone communications.
"This 5G wave is really just getting started," said Paul Hart, an NXP executive vice president at the Chandler plant. "As more cellphones have 5G capacity, it will give us a lot of traction."
NXP, a global corporation headquartered in the Netherlands, took over the facility when it acquired Freescale Semiconductor in 2015. Freescale was a division spun off by what was then Motorola Inc. in 2004.
The facility, in northeast Chandler, employs about 1,500 people, including about 250 focused on the new gallium nitride components. NXP counts around 30,000 employees spread across 30 or so nations and is on pace to log annual revenue of around $8 billion. NXP has operated in the semiconductor industry for six decades.
Source: https://www.azcentral.com/