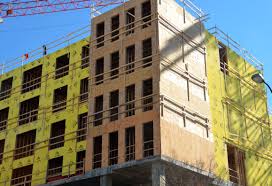 Phoenix was one of the top markets in the U.S. for apartment construction in 2020 as developers attempt to meet residential demand in the fast-growing region.
The city ranked second nationally with 17,215 apartments construction starts, according to RealPage Inc.Dallas landed in the top spot, and Phoenix, Washington, D.C., Newark, N.J., and Austin, Texas, rounded out the top five.
New construction is an important driver of the local economy, generating both temporary and permanent jobs, as well as bringing homes into the market to support a growing population and commercial space to support area businesses.
Here's more from RealPage:
Manhattan, downtown San Francisco and select neighborhoods in Los Angeles are really the only spots that registered sizable drops in the number of apartment renter households.. The metro's year-over-year rent growth lags the state average of 4.7% but far surpasses the national average of -1.5%.
The metro's median two-bedroom rent of $1,258 is above the national average of $1,090.
Source: Orlando Business Journal and Real Page