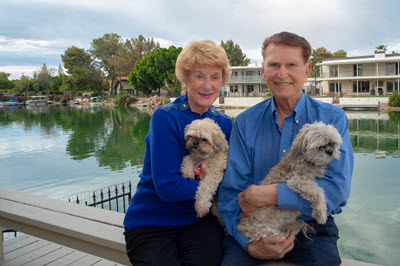 Animal Lovers Since Young Ages
Ralph and Ann Heins have been animal lovers and protectors their entire lives.
Their current furry family includes two Shih Tzu dogs (rescued), a Burmese cat (rescued) & a semi-exotic (partially wild) Bengal cat (rescued).
Ann was a Texas Barrel Racer in rodeos and 4H events working for years as a teenager to buy her white Morgan horse.
Ralph and his mother raised 6-8 dogs that found their way to her door step.
Tasha, the Heins beloved Siberian Husky, sailed the seas on their catamaran boat enjoying the dolphins playing under the boat's bows.
Their love of animals is such that they have tried to not eat animal meat since 1980.
Recently, they extended their love of animals to exclude dairy and other animal related foods.
But Ann and Ralph love their carnivore human friends!
Animal Rescue Volunteers and Donors
The Heins have worked as volunteers at Best Friends Animal Sanctuary Kanab, Utah, which is the largest no-kill sanctuary in the USA.
Locally, they volunteer at Friends for Life Animal Rescue, Gilbert, Arizona.
ANN AND RALPH WILL DONATE A PORTION OF THEIR REAL ESTATE SALES WHETHER YOU ARE A SELLER OR BUYER TO ANY ANIMAL RESCUE ORGANIZATION OF YOUR CHOICE.
Please see the map and list of animal rescue organizations on the website www.BestFriends.org