Why Use Ralph and Ann Heins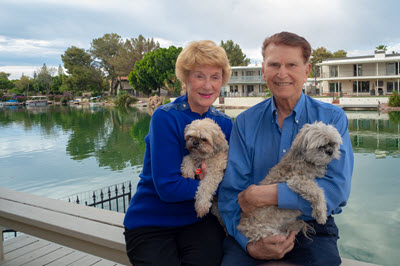 Ralph graduated from Dartmouth College with a BA in geology. He was a Master's candidate in Clinical Psychology at JFK University. Ralph was an instructor for the Dale Carnegie sales courses for several years. He obtained his broker real estate license in Billings, Montana. Ralph worked for Cabot, Cabot & Forbes in SF, Cal. as an Industrial Park Project & Sales Manager. He owned his own real estate company in Oakland California and was licensed as a General Contractor to rehab their real estate investments & rentals.
Ann graduated from San Jose State with an MBA specializing in Accounting & Finance. She worked for over 20 years at 3 Fortune 500 Companies and was one of the top female Corporate Finance Officers in the USA. After the Heins retired from sailing their catamaran in the Caribbean in 1991, they selected Tempe Arizona as their new home. Ann was the So East Valley Realtor of the Year in 1997 after serving on local & state realtor boards.
Both Ralph and Ann were licensed Residential Appraisers. They invested in many Phoenix Metro properties from condos, patio homes to single family homes. Ralph and Ann also invested in land, 4 plexes, smaller apts (150 units or less), and "Lite" Commercial. They were Certified Business Appraisers. Former professional property managers, Ralph & Ann are skilled at evaluating rents and costs. They are experienced at 1031 Tax Exchanges both for their own properties and for Sellers and Buyers. Their combined real estate experience is over 50 years.
Ralph and Ann work throughout the Phoenix Metro specializing in Tempe, Chandler, Ahwatukee, Gilbert and Mesa. Their motto is WIN-WIN OR NO DEAL providing the very best service by putting their clients first. The Heins pride themselves on being accessible, being good listeners as well as good communicators. Ralph's contractor experience helps in Sellers' pre-listing repairs & staging for sale and Buyers' estimates on potential repair costs. Due to Ann's corporate & accounting experience, she responds quickly to your needs and returning calls promptly as well as rated A+ by AZ Dept of RE for legal files. You want Ralph in your corner negotiating Offers & Repair items because of his psychology training and as a Dale Carnegie sales instructor.
You can call or text Ann at 480- 797-2896 or email Ann@HeinsRealtor.com. Ralph' phone is 480-797-2895 or email Heins @Heins.com. Ann & Ralph look forward to going to work for you. Owners/Brokers, Heins Realty.